Reba McEntire Epically Surprises Chris Janson During ACMS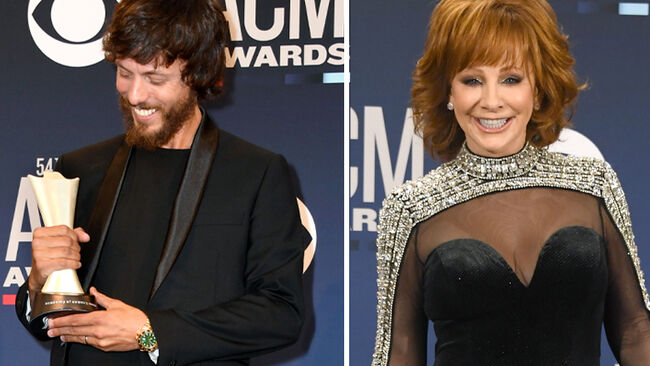 Chris Janson was shocked to win the 2019 ACM for Music Video of the Year for his single, 'Drunk Girl' but it was the surprise appearance from Reba McEntire who delivered the news that really left a lasting impression for this special moment.
Reba surprised Chris backstage before the ACM Award show to share the award-winning news. "I just want to hug you right now," Janson told his country music icon.
In the ACM Awards press room, Janson shared the story and his excitement for the win crediting his team for their hard work and dedication to his project. "All the credit goes to Shane Tarleton from Warner Brothers, Mike Dupree from Warner Brothers, and the director Jeff Venable. I want to give credit goes to where credit is due. I have an incredible team."
Janson continued with a serious tone and sincere smile. "It means a lot to me that people would even take time to give me a record deal, give me a shot, that people would play my music and that I get the opportunity to make music videos," shared Janson "I tell people all the time, when they say, "It must be a long journey to make a music video." Not really, it's a great privilege. Not everybody gets to do it. And certainly not everybody gets to win an award for one, so you know, making the video for Drunk Girl, it really touched my heart, and it touched my heart in a surprising way because most people watch their video treatments over and over and over again, and they watch all the edits. I didn't watch any edits. I watched it when it was done, and I watched the final product. That's how much I trusted my team, and continue to trust my team. When you have a good team, you can never lose."
Backstage, Shane Tarleton, SVP of Artist Development at Warner Music Nashville shared with Cody Alan, "Watching Reba surprise Janson backstage with his very first ACM Award tonight is a moment I promise you Ill always remember. From the first time, we started discussing the idea of shooting a video for Drunk Girl, this was a passion project. Being a part of this incredible creative community in Nashville is the highlight of my career."
Janson's Video of the Year trophy is his first ACM. Previously, he's been nominated three times: once for Single Record of the Year and twice for New Male Vocalist of the Year.
Photo Credit: Getty Images.

CMT Cody Alan
Want to know more about CMT Cody Alan? Get their official bio, social pages & articles on CMT Radio Live + CMT After MidNite + CMT All Access!
Read more